Squid Girl, known in Japan as Shinryaku! Ika Musume (侵略!イカ娘?, lit. Invade! Squid Girl) with the subtitle The invader comes from the bottom of the sea!, is a Japanese manga series by Masahiro Anbe, which began serialization in Weekly Shōnen Champion in July 2007. An anime adaptation by Diomedéa aired on TV Tokyo between October and December 2010, and a second series titled Shinryaku!? Ika Musume aired in Japan between September and December 2011. Three original video animation (OVA) episodes were released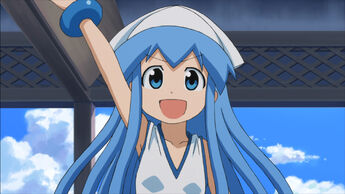 between 2012 and 2014.
Plot
Squid Girl is a girl from the ocean who possesses blue squid-like tentacles for hair. Vowing to invade mankind as revenge for its pollution of the ocean, she attempts to make the Lemon Beach House, owned by the Aizawa siblings, her base of operations. However, when she accidentally breaks a hole in their wall trying to swat a mosquito, she is forced to work as a waitress to pay off the damages. Thus, Squid Girl begins her life on the surface, learning new things and encountering many curious visitors to the beach house.
Characters
Main characters
Squid Girl (イカ娘 Ika Musume?)

Voiced by: Hisako Kanemoto (Japanese), Christine Marie Cabanos (English)
The main protagonist of the series. Squid Girl is a girl from the
ocean who plans to invade humanity as punishment for the pollution done to the sea. However, after causing damage to the Lemon beach house (which she planned to use as a base), she is forced to work as a waitress to pay for the damages. Like a squid, she has ten fully controllable blue tentacles that protrude from the top of her head like hair that can regenerate if they are cut off, as well as spew squid ink from her mouth. She also possesses numerous abilities from various species of squid, such as glowing in the dark like the firefly squid, moving the little fins on her hat, or changing her weight at will in order to better control her tentacles. According to her, she will allegedly die if she takes her hat off, which is made apparent when trying to force it off causes her life to flash before her eyes.
She enjoys shrimp and greatly fears natural predators of squids like sharks and killer whales (to the point that even swimming floats
shaped like killer whales terrify her). Although generally immature and often getting herself into mischief, she is a fast learner, able to master complex things such as math and other languages in a short period of time. She almost always ends her sentences with "de geso" (でゲソ?, lit. "squid tentacles") as a copula and emphasizes "ika" in sentences, which is written in katakana (e.g.:ja na ika (~じゃなイカ?, lit. isn't it?)). In the English dubs, she incorporates various squid and fish puns into her dialogue.
Eiko Aizawa (相沢 栄子 Aizawa Eiko?)

Voiced by: Ayumi Fujimura (Japanese), Heather Pennington (English)
The manager of the Lemon Beach House who lives with her siblings
Chizuru and Takeru. She is a strong-minded girl and constantly has to keep Squid Girl in check. Despite her frequent irritation towards Squid Girl however, Eiko does seem to care for her more than she is willing to admit. Video games are one of her main hobbies, and studying is her primary weak point.
Chizuru Aizawa (相沢 千鶴 Aizawa Chizuru?)

Voiced by: Rie Tanaka (Japanese), Shelby Lindley (English)
Eiko's older sister, the main cook
and commanding chief of the Lemon Beach House who has blue hair and almost never shows her eyes in most situations. While she has the appearance of a kind person, she possesses almost superhuman strength, superhuman abilities, and a fearsome aura which she will direct at anyone looking to cause trouble in the beach house or threaten her family and friends, the latter of which often keeps Squid Girl under control. She seems to be concerned about her weight and despite her near-superhuman abilities, she becomes downhearted when she is thought of as something other than a normal human.
Takeru Aizawa (相沢 たける Aizawa Takeru?)

Voiced by: Miki Ōtani (Japanese), Amanda C. Miller (English)
Eiko and Chizuru's little brother. Takeru is an elementary school
student who enjoys playing with Squid Girl, whom he calls "Squid Girly" (イカ姉ちゃん Ika Nee-chan?, lit. "Big Squid Sister").
Supporting characters
Sanae Nagatsuki (長月 早苗 Nagatsuki Sanae?)

Voiced by: Kanae Itō (Japanese), Xanthe Huynh (English)
A neighborhood friend of Eiko who has a pet dog named Alex. Eiko
describes her as a typical 'airhead'. She develops an obsessive crush on Squid Girl, often trying to get intimate with her at every opportunity and getting attacked in the process. She keeps a vast collection of Squid Girl photographs and memorabilia.
Gorō Arashiyama (嵐山 悟郎 Arashiyama Gorō?)

Voiced by: Yuichi Nakamura (Japanese), Jason Wishnov (English)
A lifeguard
and Eiko's childhood friend who is dedicated to protecting the sea and the people on the beach. He is usually serious about his job but will sometimes get riled up when Squid Girl messes about, most often when she pilfers shrimp from his meals. Despite many girls on the beach finding him attractive, he himself has a crush on Chizuru, but doesn't have the courage to confess his feelings to her.
Nagisa Saitō (斉藤 渚 Saitō Nagisa?)

Voiced by: Azusa Kataoka (Japanese), Cristina Vee (English)
A surf-loving girl who works part-time at the Lemon. Unlike everyone
else, she sees Squid Girl as a genuine threat to humanity and fears her greatly. Squid Girl, on the other hand, enjoys the fact that there's finally someone who fears her and thus constantly teases Nagisa whenever she can. For a short period, Nagisa started dressing up as a guy in order to attract female customers and stop Squid Girl from teasing her, but she gave up after assuming she needs to be the one who recognizes her as an invader.
Cindy Campbell (シンディー・キャンベル Shindī Kyanberu?)

Voiced by: Hitomi Nabatame (Japanese), Laura Post (English)
A scientist and extraterrestrial researcher from the United States of America who believes Squid Girl to be an alien
and is constantly trying to get her to admit being one so she can take her to her lab for analysis and examination. If she on the beach, Cindy wears a green bikini, white flip flops, and an opened red jacket while her hair is tied up. Typically, she uses contact lenses when she is not wearing glasses. Cindy has something of a rivalry with Sanae due to their shared obsession with Squid Girl. She also suspects Chizuru of being an alien herself. She is fluent in both Japanese and English.
Harris (ハリス Harisu?) , Clark (クラーク Kurāku?) and Martin (マーティン Mātin?)

Harris Voiced by: Seiji Sasaki (Japanese), Victor Lee (English)
Clark Voiced by: Anri Katsu (Japanese), Tony Oliver (English)
Martin Voiced by: Tetsuo Gotō (Japanese), Jonathan Meza (English)
Cindy Campbell's fellow researchers who studied at MIT
and work in a secret laboratory on the beach with Cindy. Harris is the black-skinned researcher, Clark is the slim Caucasian researcher, and Martin is the chubby Caucasian researcher. Though they have the talent to make beneficial contributions to mankind, their desire to communicate with aliens is more important to them. Thus, they have a reputation as "The Three Stooges" (3バカトリオ San Baka Torio?). The contraptions they develop tend to make life miserable for the main cast. However, their intentions are well-meaning. In the manga, Clark is the more intelligent of the group. In the anime, each of the Three Stooges is genius inventor as showcased when each tried to get Chizuru's DNA sample. Despite their work affiliation with Cindy Campbell, they don't consider her their friend.
Kiyomi Sakura (紗倉 清美 Sakura Kiyomi?)

Voiced by: Kokoro Kikuchi (Japanese), Carrie Savage (English)
A middle school student whom Squid Girl makes friends with after a
prank gone wrong. She is the first person whom Ika officially makes friends with, and they soon become quite close.
The Southern Winds Owner (南風の店長 Minamikaze no Tenchō?)

Voiced by: Rikiya Koyama (Japanese), Tony Oliver (English)
The unnamed owner of a rival beach house called The Southern Winds (南風 Minamikaze?). A rather strict manager, he hopes to capitalize on Squid Girl's popularity by making his own creepy kigurumi
masks based on her likeness, filled with various gadgets that often go awry. These kigurumi are often worn by his daughter Ayumi. He often tries to challenge Eiko so that he can get the real deal to work for his shop.
Ayumi Tokita (常田 鮎美 Tokita Ayumi?)

Voiced by: Ayako Kawasumi (Japanese), Sarah Anne Williams (English)
The daughter of unnamed The Southern Winds' owner. Though her beauty
attracts a lot of customers, she is painfully shy around people, especially men. In order to face people, her father often fits her with the Squid Girl kigurumi. She occasionally works at the Lemon as a means to improve her sociability and is quite bashful around Eiko. However, she is fine talking to anyone she doesn't consider to be human, which so far includes Squid Girl, Chizuru and Sanae, and can also talk with animals. In the first drama CD, she confesses that if she isn't wearing a kigurumi mask, she can't properly express herself.
Tatsuo Isozaki (磯崎 辰雄 Isozaki Tatsuo?)

Voiced by: Shunzō Miyasaka
A lifeguard
who works alongside Gorō. He is often judged by his appearance as being no good and usually tries to pick up girls with no results.
Kozue Tanabe (田辺 梢 Tanabe Kozue?)

Voiced by: Akemi Kanda (Japanese), Erika Harlacher (English)
A gentle girl with a peaceful aura, who sometimes talks with Squid
Girl, hinting that invading might not be the best thing to do as not all humans are bad. It is implied that she also comes from the sea, as she has a hat similar to Squid Girl's and makes statements that indicate she isn't human. The first syllables of her name spell out 'tako' (たこ?), meaning "octopus."
Aiko Saitō (斉藤 愛子 Saitō Aiko?)

Voiced by: Hiroko Ushida
Takeru's elementary school teacher
and Nagisa's older sister. Aiko is jealous of Squid Girl's popularity with her students as she was once popular with them before she came into view.
Ruka Shirosugi (白椙 留夏 Shirosugi Ruka?)

Voiced by: Hiroko Ushida
The beach nurse
who is sometimes harsh towards people who end up in her clinic multiple times and towards the lifeguards whenever they slack off.
Yuka Nishimura (西村 由佳 Nishimura Yuka?)

Voiced by: Naoko Sugiura
One of Kiyomi's classmates who also becomes friends with Squid Girl.
Tomomi Mochizuki (望月 知美 Mochizuki Tomomi?)

Voiced by: Yumi Uchiyama
One of Kiyomi's classmates who also becomes friends with Squid Girl.
Ayano Watanabe (渡辺 綾乃 Watanabe Ayano?)

Voiced by: Yukari Oribe
One of Kiyomi's classmates who also becomes friends with Squid Girl. She only appears in the anime.
Keiko Furukawa (古川 蛍子 Furukawa Keiko?)

Voiced by: Misato Fukuen
A clumsy female police officer who often patrols the Lemon.
Mini Squid Girl (ミニイカ娘 Mini Ika Musume?)

Voiced by: Hisako Kanemoto (Japanese), Christine Marie Cabanos (English)
A miniature version of Squid Girl that appears in people's dreams
(mostly Sanae's dreams). Like Squid Girl, she has a strong appetite for shrimp, though her vocabulary consists of only one word, which is 'geso' in the original version and 'squid' in the English dub. A Mini Squid Girl can purportedly live for up to 150 years.
Media
Manga
The manga by Masahiro Anbe began serialization in Weekly Shōnen Champion in July 2007 and is still ongoing. Akita Shoten published 19 tankōbon volumes between March 7, 2008 and March 6, 2015.[1][2] It is published in Taiwan by Chingwin Publishing Group.[3][4]
Anime
See also: List of Squid Girl episodes
A 12-episode anime adaptation by Diomedéa aired on TV Tokyo between October 4 and December 20, 2010. The fifth and sixth DVD/Blu-ray volumes, released on April 20, 2011 and May 18, 2011, contained bonus "Mini-Ika Musume" side-stories.[5] A second anime season, titled Shinryaku!? Ika Musume (侵略!?イカ娘?),[6] aired in Japan between September 26[7] and December 26, 2011. Both series were simulcasted by Crunchyroll.[8] An original video animation (OVA) episode titled Shinryaku!! Ika Musume was bundled with the 12th manga volume released on August 8, 2012,[9] and a second OVA was released with the 14th manga volume on June 7, 2013.[10][11] Crunchyroll began streaming the OVAs in February 2014.[12] A third OVA was released as a Blu-ray Disc bundled with the 17th manga volume on September 9, 2014.[13] Media Blasters licensed the anime in North America under the title Squid Girl. The first season was released on two DVD volumes on September 27 and December 6, 2011, respectively,[14][15] followed by a Blu-ray Disc release on March 13, 2012.[16] Media Blasters originally planned to release the second season,[17] but no longer plans to do so.[18] The first season was released on DVD in the United Kingdom by Manga Entertainment on August 13, 2012.[19] An English dubbed version of both anime seasons airs on Animax Asia across Southeast Asia.[20]
Music
For the first anime series, the opening theme is "Shinryaku no Susume" (侵略ノススメ☆?, Let's Invade!) by Ultra-Prism with Hisako Kanemoto, which was released on October 27, 2010, and the ending theme is "Metamerism" (メタメリズム Metamerizumu?) by Kanae Itō which was released on November 26, 2010. A character song, "Ika Aisu Tabe na Ika?" (イ・カ・ア・イ・ス食べなイカ??, Won't You Eat Squid Ice Cream?), sung by Kanemoto, was released on July 6, 2011 bundled with a DVD music video.[21] For the second season, the opening theme is "High Powered" by Sphere, and the ending theme is "Kimi o Shiru Koto" (君を知ること?, Learning About You) by Kanemoto.[22] For the OVAs, the opening theme is "Let's Shinryaku Time!" (Let's☆侵略タイム! Let's Shinryaku Taimu?) by Ultra-Prism and the ending theme is "Puzzle" (パズル Pazuru?) by Itō for the first two OVAs, and "Miser's Dream" (マイザーズドリーム Maizāzu Dorīmu?) by Itō for the third.[23]
Other
A collaboration with Nintendo's Splatoon video game has been announced. Along with collaboration artwork by Anbe posted on the official Japanese Twitter account,[24] free clothing items based on Squid Girl's outfit were released for the game on August 6, 2015.[25][26][27]
Community content is available under
CC-BY-SA
unless otherwise noted.