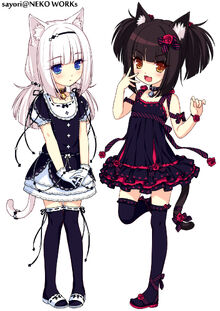 Nekopara
(ネコぱら
?
) is a Japanese adult visual novel series developed by Neko Works and published by Sekai Project. The first game in the series,
Nekopara Vol. 1
, was released on December 29, 2014.
[1]
The series is set in a world where humans live alongside catgirls, known as "Nekos," and are able to keep them as pets.
Gameplay
Nekopara is a visual novel series, so the majority of the gameplay consists of the player reading the game's story. Nekopara does not offer choices to the player throughout gameplay, and the player has no influence over the story. The games are fully voiced (except for the protagonist) and use a system called "E-mote" that allows the in-game characters to be animated, instead of stationary sprites.[2] Nekopara Vol. 0 added a new feature where the player can click on characters in-game, to "pet" them. The characters will react in different ways depending on where the player pets them.
Plot
Kashou Minaduki is an aspiring chef who moves away from home to open his own confection shop. While he is unpacking in his new shop, he discovers that two of his family's Nekos, Chocola and Vanilla, came along with him by hiding in cardboard boxes. After the two Nekos convince Kashou to let them stay and live with him, the three of them work together to run his shop, "La Soleil". Throughout the story, Kashou is frequently visited by his younger sister Shigure, as well as the other Nekos owned by his family.
Characters
Kashou Minaduki

The protagonist of the story. Kashou comes from a long life of chefs, and decides to move away from home and open his own shop.
Chocola

Voiced by: Himari
Chocola is a cheerful and energetic brown haired Neko. She is very
fond of Kashou, and calls him "master". She could not bear the thought of being separated from her master, so she came along with him when he moved to his new shop. She is Vanilla's twin sister.
Vanilla

Voiced by: Amu Nakamura
Vanilla is a quiet and calm white haired Neko. She rarely expresses her emotions, making her a somewhat of a kūdere Character. She loves her twin sister Chocola, and will follow her
anywhere she goes. Chocola and Vanilla are the youngest of the Minaduki family Nekos.
Shigure Minaduki

Voiced by: Emi Sakura
Kashou's younger sister. She appears to have romantic feelings for Kashou. She is the owner of the Minaduki family Nekos.
Azuki

Voiced by: Mia Naruse
Azuki is the oldest of the Minaduki family Nekos. Despite being the oldest, she has a mischievous personality. She is a Munchkin cat.
Maple

Voiced by: Yui Ogura
Maple is the second oldest of the Minaduki family Nekos. She
enjoying visiting cafes to try different food and drinks. She is an American Curl.
Cinnamon

Voiced by: Yū Arisaka
Cinnamon is the third oldest of the Minaduki family Nekos. She has a
dirty mind, so she frequently interprets things in a sexual manner, and ends up becoming aroused. She is a Scottish Fold.
Coconut

Voiced by: Ryōko Tezuka
Coconut is the fourth oldest of the Minaduki family Nekos. Other
characters praise her for her "cool" personality, but she wishes she were cute rather than cool. She is a Maine Coon.
Release history
Nekopara Vol. 1, was released in two versions: an uncensored adult version that includes explicit sex scenes and nudity, and a censored all ages version where the explicit content is removed.[3] The all ages version was released on December 29, 2014,[4] and the uncensored adult version was released a day later on December 30, 2014.[5] As of August 2015, Nekopara Vol. 1 has sold over 110,000 copies.[6] An all ages Fan disc titled Nekopara Vol. 0 was released on August 16, 2015.[7][8] Nekopara Vol. 2 will be released in February 2016.[9]
| Vol. | Release date |
| --- | --- |
| 1 | December 29, 2014 |
| 0 | August 16, 2015 |
| 2 | February 2016 |
Reception
Hardcore Gamer gave Nekopara Vol. 1 a positive review, stating that "Nekopara is a light and fluffy visual novel that fans of catgirls will enjoy," but noted that "some may be put off by the sexual storyline aspect."[10]
Community content is available under
CC-BY-SA
unless otherwise noted.